Jamie Thomas Answers Your Questions
You asked for it, you got it. We went down to Black Box and brought a list of questions YOU wanted Jamie Thomas to answer. Here are the first 3 segments. Jamie wants to answer more questions on film, which will be posted at a later date. Did your question make the cut?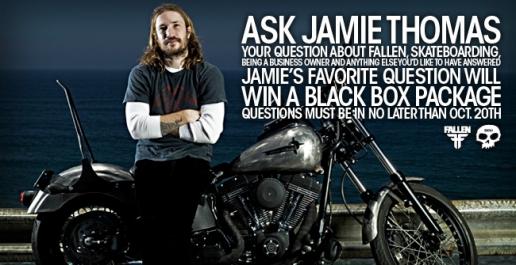 Jamie Thomas: Professional Skateboarder, business owner, family man, and director of all things Black Box is going to be answering your questions! Ask him whatever you'd like to know about from his long, amazing, and ongoing career which has not slowed down. If you're lucky he'll pick your question and answer them for you right here on hbsurfshop.com You have until October 20th to get your questions in and we will post the video of Jamie's answers by November 1st.
Jamie's favorite question, by one of you out there, will win a Black Box package!
**Make sure you submit your correct email address, as to be notified if you are the winner** Also, check out our Ask Erik Ellington Video!
START ASKIN'!
Tags: fallen
724 Comments
If I am not mistaken they are from Koolaburra and are known as the Flash Peace Sign Tall with Crystallized Elements by Swarovski in Grey.

Taylor Swift … Lyrics . I got a pocket, got a pocketful of sunshine I got a love and I know that it\'s all …

The dress?s adorable, but who?s this girl?)

i love her. shes so nice and pretty and shes a really great role model. and shes SOOOOO much better than miley cyrus

i love taylor i wish i could go 2 her concert

Haha ^^ nice, is there a section to follow the RSS feed

its not the best song but its pretty cool

whats up Jamie, you've been my favorite skater since about '98 when I started. my question is, what did the impact feel like on the leap of faith? because I ollied off a 10-11 ft. high wash, but when I landed, it was like a blackout, and i found myself layin on the ground with my friends laughing. but you didn't seem shook at all, were you hurt at all? *J*M*T*4*L*I*F*E*

wait wait, I have one more question. I've seen you land a big trick, or a part-ender, and put your hand up and motion with your finger, "one more time", and I've always loved it. did you see anyone else do that before you? or are you the proud owner of the "one more try" motion? *J*M*T*4*L*I*F*E*

Hey Jamie, i'm a big fan of yours. I've been skating for about 2 ad a half years now and have gotten really good at it.I want to be a pro 1 day but dont know how to get started… do have any tips to help me out…. thanks a bunch.

P.S… u have any tips on the heelflip…i kinda suck at thta trick?

Hey its me again… im just typin back just to make sure u got my email address ok l8r. oh and congrats to Koston on joining Nike SB.

what do they mean with…
when did you god saved ?
what happend ?

i wish i could aks him why theres no goofy riders on fallen

hey are u alowd 2 just walk in 2 Black Box Dist?And like sk8 the park and me the people that live there?

Hey Jamie, What are ur views on God and religion? and how does all of effect ur life?

hey jaime ,,eres uno de los mejores skater por tu trayectoria y tu rudesa en el skateboard,,,,,chida la marka fallen skate es mi marka preferidota,,,,,,,,,,,,,,,,,,,,,,,,,,,,,,,,,,,,,,,,,,,,,,,,,,,,,,,,,,,,,,,,,,,,,,,,,,,,,,,,,,fallen for life,,,,,,,,,,,skate or die……………………………………………………………………………………………………..camino del exeso funte del buen saver……………….

Hey Jamie,
My names Hayden and Im a skater from Birmingham Alabama, so at least you know where Im coming from. Skateboarding has ultimately changed my perspection on life and youre a big part of that, bro. I support skating and FAITH skate supply tand every thing they do to support skateboarding.
Skating is something that has practically saved my life as well.
I just wanted to ask you, How did you do it man?
How did just one skater from Dothan, Alabama go on to be the skater that has caught sooo many kids on to skating?
How did you get one of the most gnarliest skate teams around together? and make the illest skate videos!
Thats all I wanted to say, man.
keep doin what you do, and keep skating alive!

-Hayden Estes

Hey Jamie, I played the old Tony Hawk games on the Playstation growing up, which pretty much got me into skateing. I have alot of good memories getting home from school playing it, then going out and skateing. I was wondering how psyched you were to be featured in a video game back then in like 1999, and what were your experiences with the Neversoft guys, and or the other Skaters featured in the games.

Jamie,
What inspired you to skate? like, what made you erally wanna stand on the board and skate until you got somewhere? what was your inspiration.

-Daniel