Wishful Thinking- A Christmas Wishlist Giveaway!
We will be picking winners all month!!! So be sure to get those wish lists turned in!!
Here's your chance to win everything you've ever wanted from Active! (Well, 250 dollars worth…) Starting November 26th, we will be picking a winner every week until Christmas. To enter, all you have to do is simply add a bunch of products to your wishlist and email it to santa@hbsurfshop.com If your wishlist is picked, you'll win $250 worth of any product you want.
So click on the photo, checkout the video, and start wishing!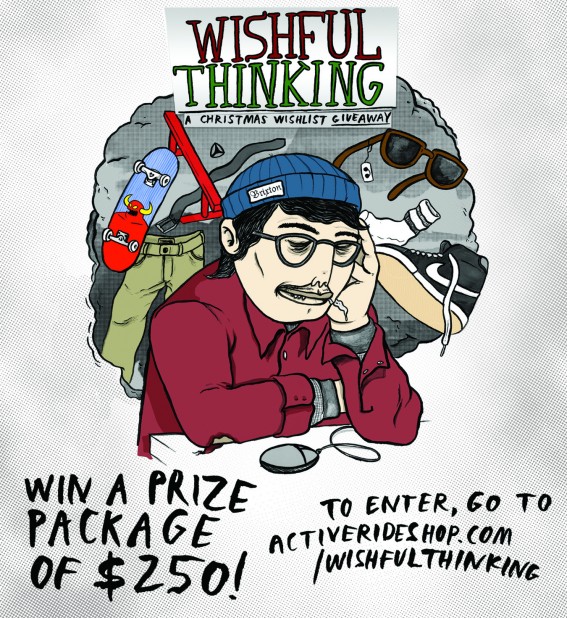 Tags: altamont, Ashbury, baker, Billy Marks, Brandon Biebel, Chad Tim Tim, deathwish, element, fallen, lakai, Leo Romero, nuge, rvca, slash, wishful thinking
20 Comments
this is a great thing you guys are doing

u should make another video

i need a baker realy bad my board snapped

wow o wow o wow o wow o wow o wow o wow o wow that was funny hahahahahhahahahahahahahahahahahahahahahahahahahahahahah gaaaaaayyyyyy boy

you guys need to pray that pick me

how do i send the wishlist to the email?

For directions, click the link above… 1. Find something you like & click Add to Wishlist, 2. Login or Create an Account, 3. Add more stuff 4. View Wishlist & Click email a friend, email santa@hbsurfshop.com & 3 other friends or family… 5. GO SKATE!

I really love crispy chicken nuggets.

Make as many as you like.

Wow, Active is really generous these days, I wish i could get a new deck. I'm 13 and I skated daily and i have a black label board that has chips everywhere and i'm the only person out of my friends that can kickflip high on it, imagine if I got a new deck!!!

I hope you guys choose me