Ask Chris Cole YOUR Questions!
11/11 Update: THE CHRIS COLE ANSWERS ARE UP CLICK HERE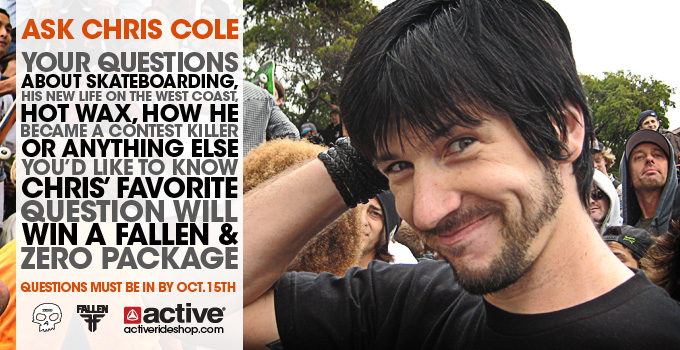 Chris Cole is the next Professional Skater to answer YOUR questions that you write in, right here! Chris' favorite question of the lot will receive a Fallen and Zero package. Ask away, but the deadline is October 15th!
Shop Chris Cole's sponsor's below


Tags: chris cole, fallen, zero
758 Comments
how did you get sponsored?

how did you create the 360 hardflip?
Youre my inspiration for skating.
I skate everyday.(when its not raining.)

Chris you are my favorite skaters of all time can u please come to nanaimo BC Canada and skate in your park

How do you skate like you?

Chris cole,

Why did you start skating and what inspired you to stick with it to become the living legend you are today?

hey can u come to nanaimo BC cAnada and skate at the park…keegan sauder did

chris cole can you *** to tuba city sk8 park. the element team did so can the best team ever, the fallen team!!!!!!!!!!!!!!

chris cole you are my favorite sk8er of allllll time. so you should *** 2 the tuba city sk8 park its the best par there is in A.Z…:) i would think so please *** i beggg of you…!:::::)))))