Slash Tie Dye T-Shirt Contest
CONGRATULATIONS TO BEN GOTTLIEB FROM WOODLAND HILLS!!! SLASH PICKED HIS SHIRT AS HIS FAVORITE ONE. HERE'S A LITTLE VIDEO OF SLASH PICKING THROUGH ALL THE ENTRIES… THANKS AGAIN TO EVERYONE THAT SENT IN A SHIRT!
Adobe Flash is required to view video content.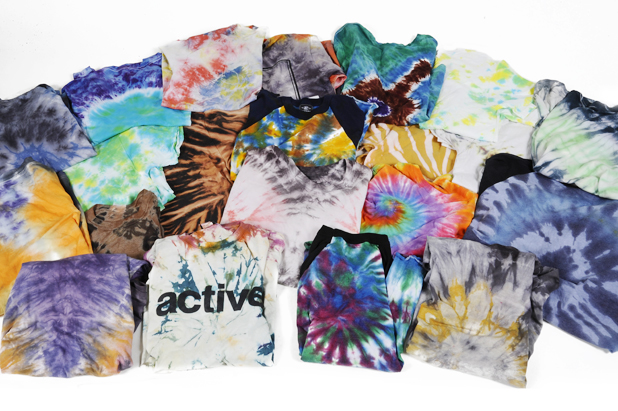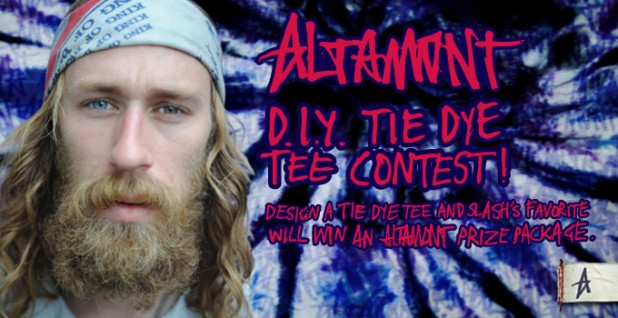 Slash wants you to make him a new shirt!! But not just any T-Shirt, a Tie-Dye shirt!
Slash's favorite shirt will win a Pro Package from Altamont!! Clothes, socks, shirts, pants, stickers, etc,… all sorts of goodies!  Read below on how to enter and don't forget to include your name and a valid email address so we can get a hold of you.
Rules.
Shirt must be tie-dyed by the contestant. (any store bought ones will be disqualified)
Shirt must be medium or large.
Send all entries to 12087 Landon Dr. Mira Loma, CA 91752  (attn:Slash)
All entries must be received by the 16th of April.
Please include your name, address, and email information.
Be creative, have fun, and get wild.
How to.
Materials needed:
Fabric dyes in assorted colors
Plain white T-shirt
Large plastic tubs
Wooden spoons
Strong rubber bands
Directions.
Mix the dyes according to the directions on the packets. Use a separate tub for each color and stir with a wooden spoon. Tie knots in the T-shirt or twist sections and secure with rubber bands. Dip the tied T-shirt into a dye tub and swirl around until covered. Leave for the time indicated on the dye packet. Remove and rinse with water until the water runs clear. Allow to dry. Untie the knots and remove the rubber bands. Iron flat or tumble in a clothes dryer to remove creases. Experiment with more than one color and with imaginative tying designs.
Helpful  videos:
http://www.youtube.com/watch?v=HZcgNu8PwF0
http://www.youtube.com/watch?v=jyDFWIFvF3k
Tags: altamont, Brian Hansen, deathwish, fallen, slash, tie-dye
Active stock video, and similarly, archive footage, library pictures, and file footage is film or video footage that can be used again in other films. Stock footage is beneficial to filmmakers as it saves shooting new material. A single piece of stock footage is called a "stock shot" or a "library shot". stock video Hawaii may have appeared in previous productions but may also be outtakes or footage shot for previous productions and not used. Examples of stock video that might be utilized are moving images of cities and landmarks.
on Thursday, May 20th, 2010 at 1:00 am and is filed under
Contests & Giveaways
,
Skate
. You can follow any comments to this entry through the
RSS 2.0
feed. You can
leave a comment
, or
trackback
from your own site.
18 Comments
you know i'm gonna stop by and pick up some of the ones he doesn't pick…

never noticed his eyes were different colors

yeah, Is that Contact Lenses? good contest!

when will the winner be picked?

tie die? ty dy? ty dye? Ti die? how do you spell tie dye???

Yo Fonz… the winner will be picked sometime next week…we might extend the contest a bit because the catalog went out a little late… did you send one in?

yeah man mine's the baseball teee. i sent another one in because i thought it looked a little nicer. the colors are really vibrant on it. it's really cool that you put on this contest man.

if i win this contest man. you saved my life ahahha. i need so many clothes. i only have a few shirts. one pair of pants. a couple pairs of socks. dude i need this man. ahahha

Thanx for the free T, I was just wondering if I can get a large instead of a medium, how can i go about do N that?

contest was horrible….he picked a fruity one…slash can suck it

BOOOOOOO! T.Cole should have won….

****'s Weeeeeeak, Oh yea so when do we get our T's back. U know those R our designs, Crooks. I hope i don't see any of my patterns with an active tag.

WOW so many poor sports. I think it's rad that Active & Slash did this!

i would crap my pants if slash called my house

LOL BEN
he was just talking about this xD
he made me a shirt too