Skate Mental Contest!
We Have A Winner!!!
Congratulations to Scott DeYager from Long Beach California!!!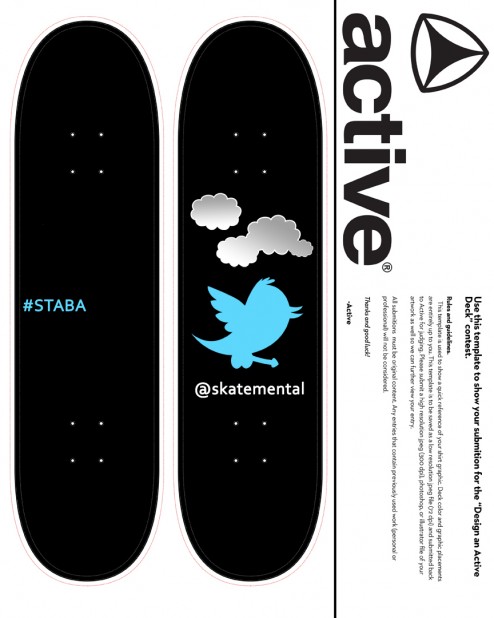 Be on the look out for a box of goodies comin' your way courtesy of Skate Mental and Active!

Brad Staba wants to give you something… but I'm not really sure what?? I guess that depends on how good (or bad) your designs are for this Skate Mental contest. Basically, you just have to come up with a board graphic for them… You might win something, you might not. Haha…It's totally up to Brad.

GOOD LUCK!!
Just click HERE or on the image below for the template and official rules. All entries must be submitted to contest@hbsurfshop.com or you can print out your design and mail it to:
network 12087  Landon Drive Mira Loma, CA 91752 Attn: SIAM
The deadline to submit your designs is August 12th.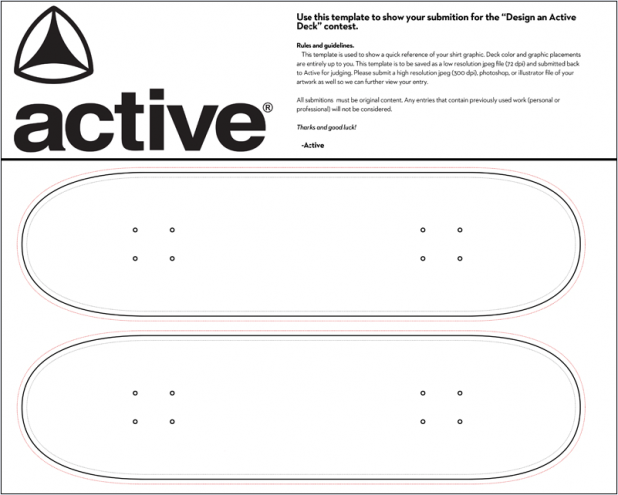 Shop Skate Mental here:
Tags: active event, Brad Staba, Contests & Giveaways, Erica Yary, Skate Mental, skatemental
38 Comments
Just wondering why are there two boards… is it to design two graphics or is it top and bottom?

[...] sat down with Skate Mental rider "Brad Staba" to see whats going on and talk about the Skate Mental contest. Tweet [...]

When is the deadline???
thanks!

oh…no, it's just two templates… design however many you want. Top and bottom or just the bottom…or just the top…your choice!!

and the deadline is August 12th


Hi,
I m from Paris(france).
Can i submit graphics or it s just an American contest??
Thanx.

[...] I found this today, enter if you want! [...]

Hey, do i have to print out the templates ?

what is the exact street address on there i dont think the street name is posted on there

[...] laugh, buy Skate Mental, enter the contest. Hot ****!, Skateboarding, Brad Staba, Erica Yary, My Videos, Skate Mental [...]

can the design be done on photoshop?

My email keeps failing to send. Any idea why this may be?

I'm sending it from Scotland could that have anything to do with it?

Hell ya Siam! Keep these contests going man! Ima get on another design cranked outta the ol Dark Factory! Anything this skater digs on personally, whens the dead-line?

the deadline is August 12th… The weirder, dumber, funnier, stupid-er…the better!!

if we mail it does there have to be a return adress???

do u have to draw it on the templates that it shows

you can… or whatevs…just send it over..the contest ends on the 12th!

ok siam i just gave it to the post office so if you can can you tell when you get it?

[...] and I would have had a drawing earlier today, but I'm in the midst of working on a design for the Skate Mental board graphic contest Active Ride Shop is currently holding. Perhaps it's an obscure reference in 2011, but in my [...]

when will the weiner be chosen?

when will tge winners be chosen????

Hey guys… all the entries were sent over to Skate Mental… Brad's going to check them out and pick his favorite. As soon as i hear from him, you'll hear from me… :)Thanks again to everyone who entered!!

when will you guys choose the winner?

(Dqm)… i sent all the entries to Brad last week… he said he'll let me know… hopefully this week!

hey siam, i sent my last two entries through an email and im not sure if they were recieved is the anyway you could tell me if you got them. i don't want to draw another picture if you didnt even get the last ones for whatever reason

(bms) ya… what were they of? or what name did they come under??

One was a weiner dog with, and the other was a hand and a foot on a plate. and the name was bradley saine

Hey, I mailed my graphic two days before the original deadline and i was just wondering if you received it in time? or should i resend it? it was sent U S priority mail, and the graphic was burn on to a CD.

Do I get an email confirming that my design was received?

(tavis)… i can send you an email if you want…what was the name?

(propa) ya i got em! i put them on the computer and took a screen shot of them and sent them over…

the contest won't end until after this weekend, then Brad will pick someone..

Siam, the name is Tavis Redmond. I just sent the email a few minutes ago… I also asked in the email if you would respond.

Thanks.

Hey Siam, I was wondering if you got my design… I sent it in real late last night, sorry about that, thanks.

i got it! i'm sending them to Brad today… he should pick a winner this week.

Just wondering if you got mine as well. Never got that email.

Thanks

that board ***** sucks ass, my design ***** on it

that board f u ck en sucks ass, my design s h i ts on it.

(kane)your spelling is awful…