Win A Year Supply Of Volcom Clothing!
Thanks to everyone for all the great entries!!! We have a winner!!!
Congratulations to Edwin Rodriguez!!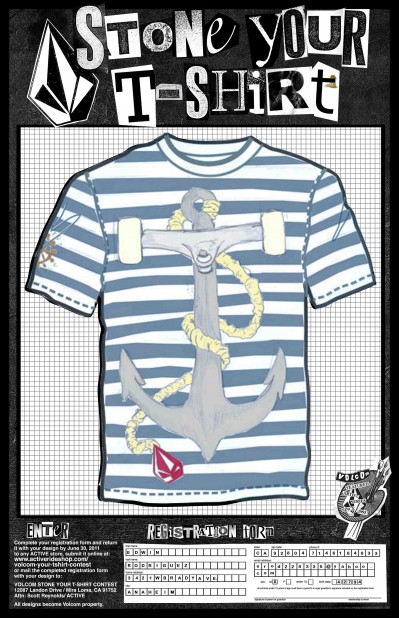 Win a year supply of Volcom clothing and your very own Volcom shirt that you design! All you have to do is simply click HERE or on the picture below for the template and official rules. All entries must be submitted to contest@hbsurfshop.com or you can print out your design and mail it to:
network 12087 Mira Loma, CA 91752 Attn: SIAM
Good Luck!!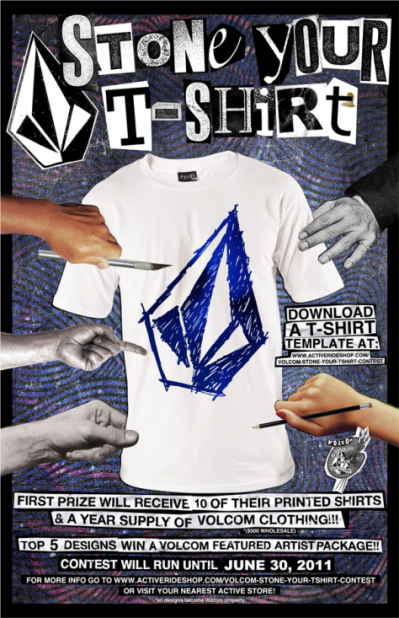 Shop all Volcom here:
Tags: active event, stone your tee, volcom
67 Comments
WORKING ON SOME ALREADY HOPE I WIN:)
HOW MANY DESIGNS CAN U SEND IN???

can we use programs like Adobe Illustrator to create our designs or does it have to be drawn on the actual physical piece of paper?

(sabas)… yep. you can use illustrator. You can even print it out, draw on it, and mail it in… whatever and however you like man!!

Dope! This **** sounds rad yall

how many desighns? can we enter!!???

you can enter as many as you'd like!! keep 'em coming…

Hey Siam I just sent you a packet of about 12 designs and 1 big design let me know when you get it and what you think of them… I'll be sending more in! Thanks

Hey just wondering if you've received my packet yet

Hey I just saw that the address on top doesn't have a street. I sent it to that address.. Just wondering if you have received it? Email me back

if i lose can i still get my design on shirt from you guys??


hey Gilbert… ya, i got your drawings in the mail…thanks man!!!

Siam, cool man I just sent you some more yesterday! Hope you guys like them!

wat up siam, just wondering if you recieved my drawings yet

hey siam, can you send in multiple different versions of a design? just wondering and thanks!

chris… ya you can send in as many as you'd like…

hey did you guys get my skate anchor design

Hey what's up Siam, just sent you some more drawings let me know when you get them

how can i design this t shirt and where?

wat up, its me again just wondering if my drawings have arrived yet.

did u get my shirt design?

Just sent some more tell me when you get them

got 'em man…thanks a lot!!

Question how and when will we know who won the contest?

Gilbert… The contest ends on the 30th of June… then i'll send all the entries to Volcom and they'll pick their favorite one and then let me know…and then i'll get a hold of you. Either by email or phone…

Cool man thanks for the details… Hope they like my stuff super hyped about it!

hey I cant get the file to download so Im just gonna use a basic t-shirt template from google is that cool?

Have you received my drawings yet ?

Do the designs need to be received by 6/30 or postmarked by 6/30?

aryeh…i did get your drawings. and doug, you can just send 'em in…they don't need to be postmarked by the 30th… it's all good!

SIAM, is it cool to email the desighns in on the 30th?

totally fine! i'll be turning them into volcom on tuesday…so you got all weekend.

hey siam, turned in a packet of pictures. some old odd ideas i had laying around in some stax of sketch books, hope you guys can use em
late

hey siam,
i was wondering if you were going to announce the winner in this website

ya for sure! as soon as volcom picks one and lets me know, i'll let you guys know…

Hey, wanted to know if you received my designs I sent through email and if my info was able to be attached to my previous entries. sent them from an email similar to the username,

i don't think so…send them again just to be sure

Alright I sent them to contest@hbsurfshop.com again, let me know if I should send them somewhere else instead.

Just wanted to know if u got my Designs in the mail??? Mailed them on June 26th! Hope i wasnt too late????

Also, (SIAM), my lame old Apple iBook wouldnt let me print/download the template!!!! So i just Priority Mailed them to you on June 26th! Had to just Draw the designs on Blank Printer paper! I hope that is OK and let me know if you got them and if they got entered in time???? thx

Stoked to see who won this, contests are always the best way to bring out some dope design work.

still waitin on Volcom to let me know…should be next week!!

How would we know who won are you gonna post it on here?

ya…i'll post it on the volcom contest blog.
werd.

this anticipation is killer…

I hope we find out today or sometime this week!!

I take it no ones heard anything yet?