DIY: Active T-Shirt Transformation
Ladies, have you ever come across a super cool men's tee that you would love to wear?  I know I have!  And trust me, I understand how frustrating it is to know that it probably won't fit right either.  From working in a shop for a little over two years, I have come to find tons of Active graphic tee's that I have fallen in love with.  I fully admit, I have no talent whatsoever when it comes to sewing machines and I try to avoid pins and needles as much as I can.  After MUCH trial and error, I am happy to say that have come up with an easy solution that requires no sewing at all!  Follow the steps below and you too will soon be rocking a men's Active t-shirt with style!
First you need a pair of scissors, a pencil, and of course an Active Tee. You can pick one of these up at any network location or online!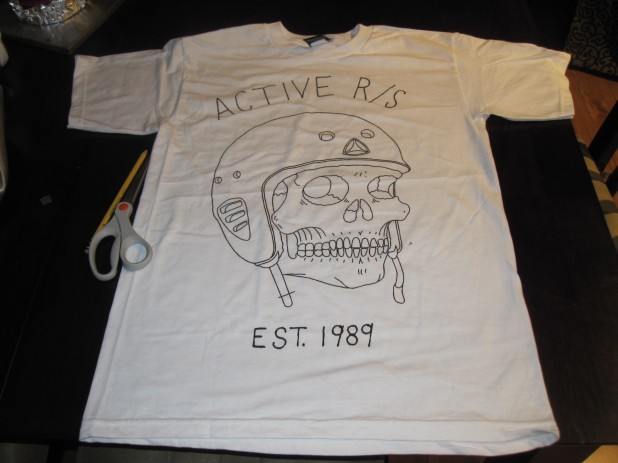 Be sure to choose a brightly lit area with a flat surface.  This will make it easier to cut and actually see what you are doing!  Also here's a tip: if this is your first time, don't try this on one of your favorite t-shirts!  I've definitely cried over a few concert tee's and finally learned from my mistakes.  So just remember practice makes perfect!
The key phrase is "LESS IS MORE."  Keep in mind that you can always cut more fabric later!
The first step to making a tank top is cutting off the sleeves.  Use the seams of the shirt as a guide and cut towards the inside of the shirt.  Make sure that the front and back seams are lined up before you cut.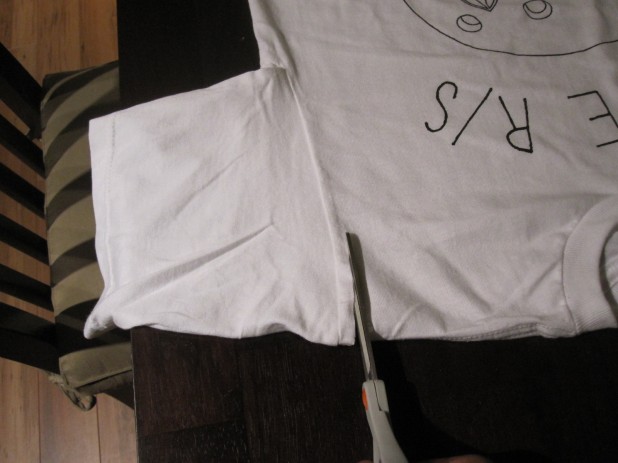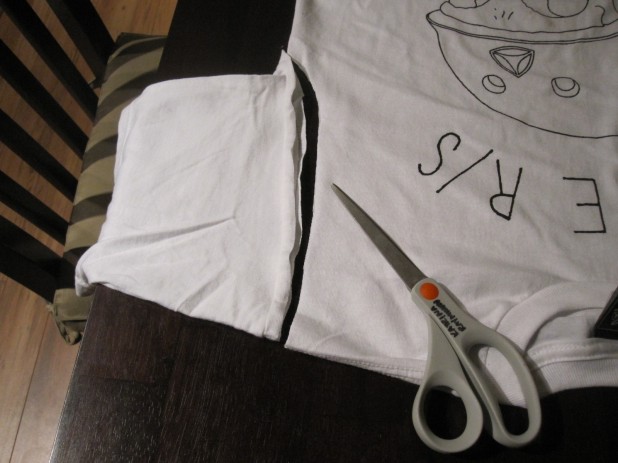 Then do the same for the other sleeve.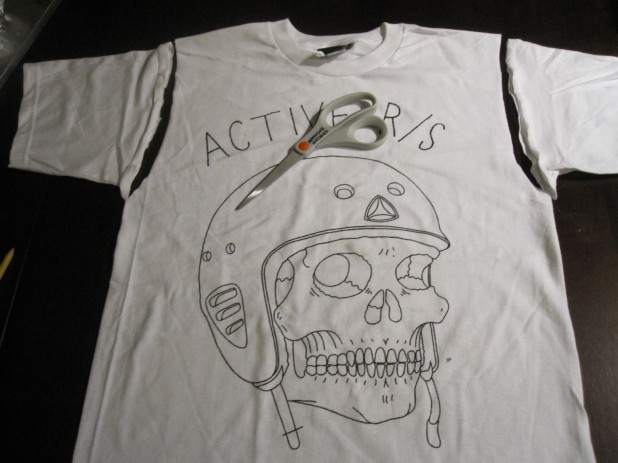 This next step is crucial!  Try on the tee and use the pencil to mark how low you want the front of the tank to be.  If you don't try the t-shirt on the cut will be a lot lower than planned.  SO, be sure to try it on!  You can always take away more if you want it to show more skin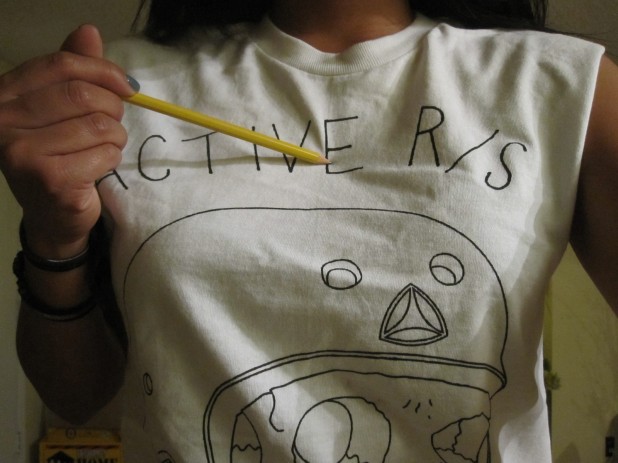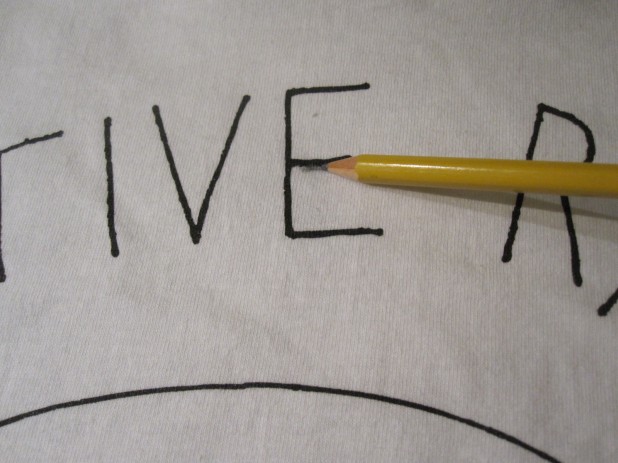 Use the scissors to cut ONLY the front portion of the shirt.  Start at the collar and cut into the shirt.  Then make your way down to the mark.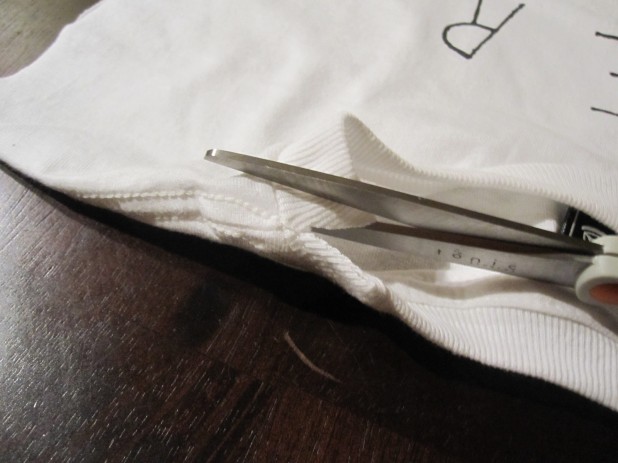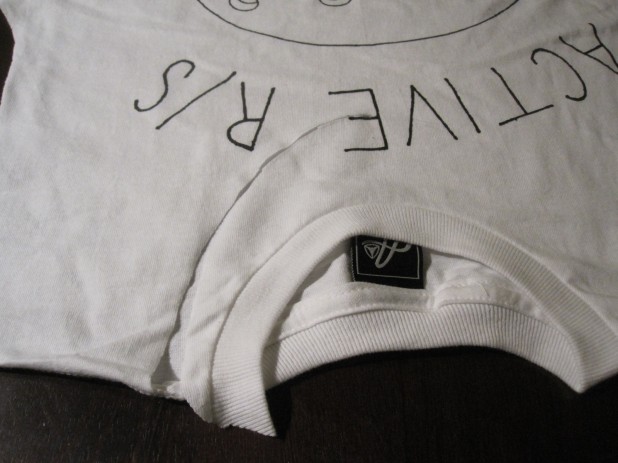 Cut about halfway and fold the fabric over and line it up with the neckline.  Then use it as a guide to cut the other side.  This will give you a mirror image and an even neckline.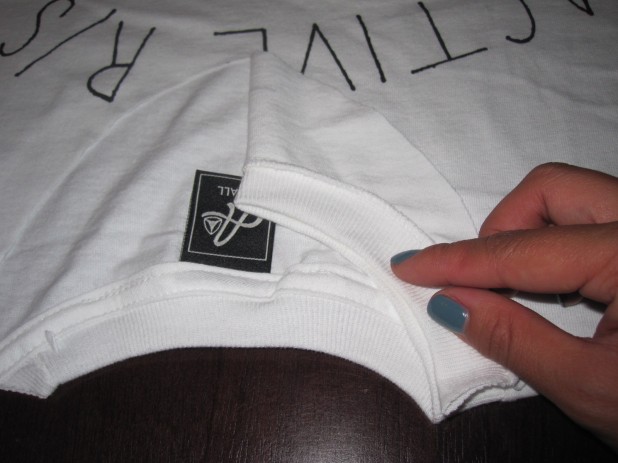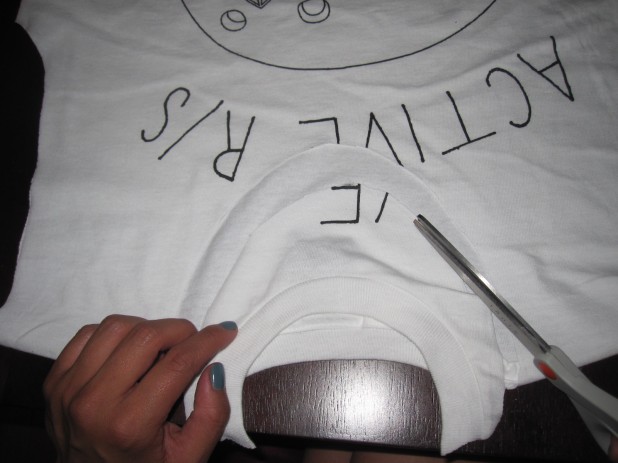 The next step is to cut the back portion of the tank. Use the ribbed collar as a guide and cut along it.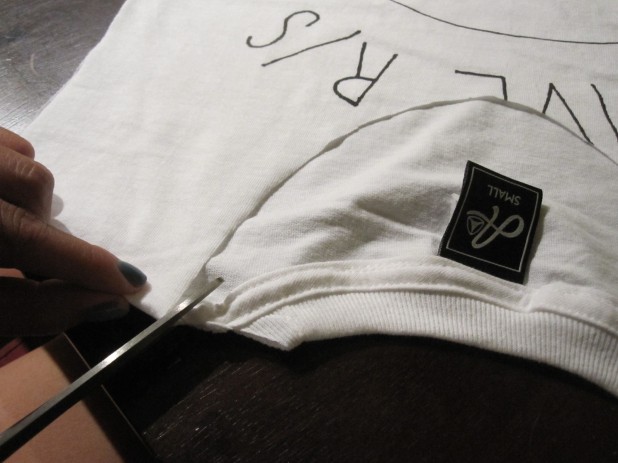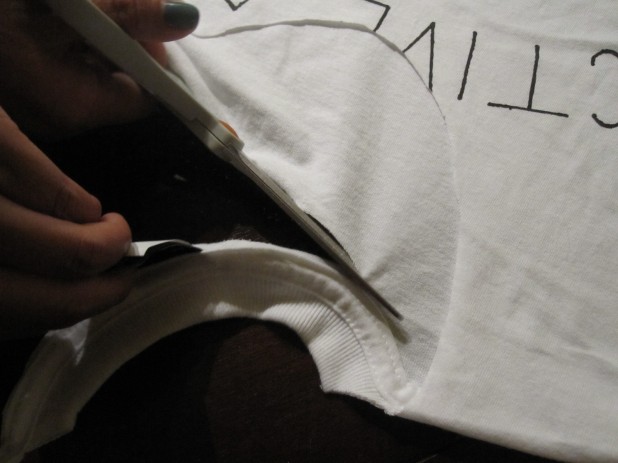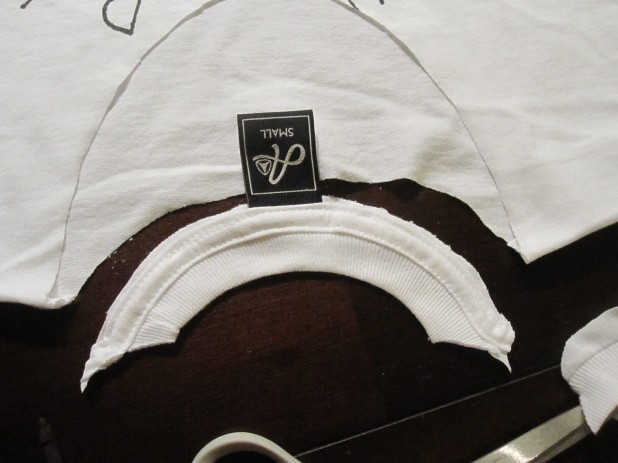 After trying it on again, I decided that I want the straps of the tank to be a lot thinner (see you can always cut more later!). If this is the case with you too, decide how thin you want the straps and use the curve that you already cut as a guide.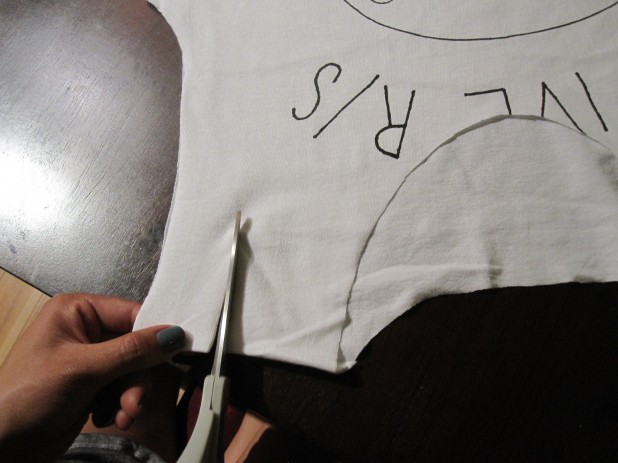 Now DON'T throw away that piece! Use the extra fabric you just cut off as a guide for the other strap.  Feel free to use your pencil to lightly trace the fabric.  This will ensure that both straps are even!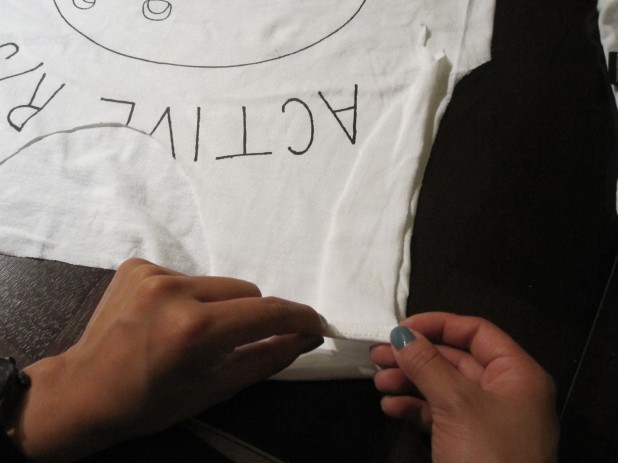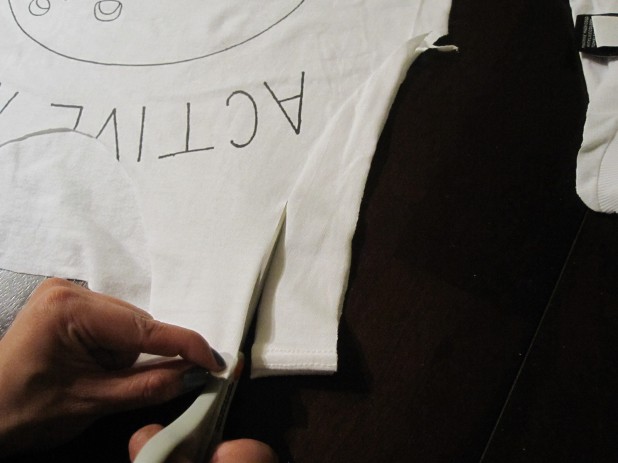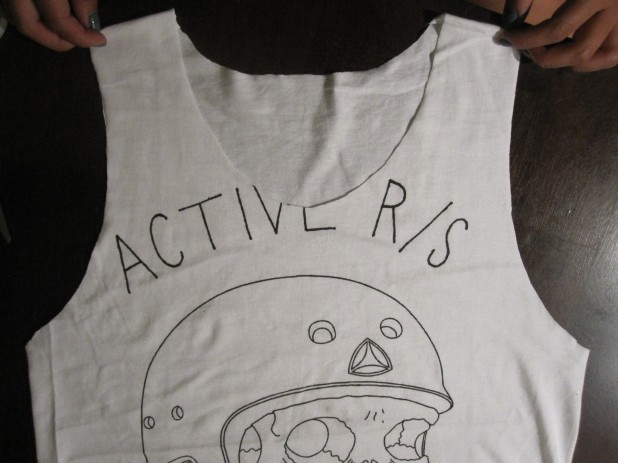 You're almost done! This last step is completely up to you, but since I'm 5′2″ this step is a must for me.  Try the tank on again, and visualize how short you want the tank to be.  Mark it with the pencil and then lay the tank completely flat.  Use the bottom hem as a straight edge guide and cut straight across.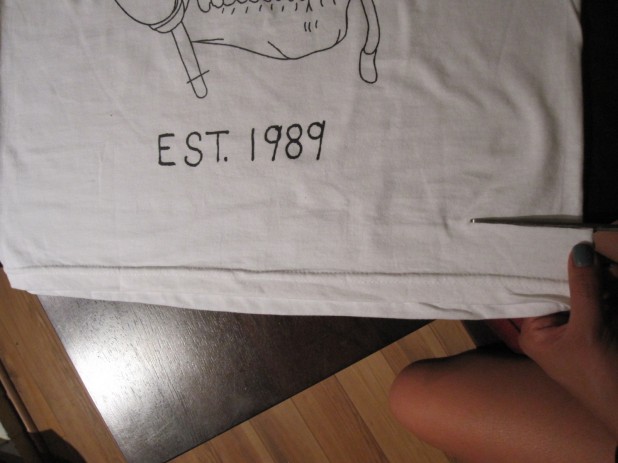 TA-DA! Your Active T-Shirt transformation is now complete! Don't worry if your cuts aren't perfect.  This look gives it a more personalized style.  Now that it's summer feel free to show this look off!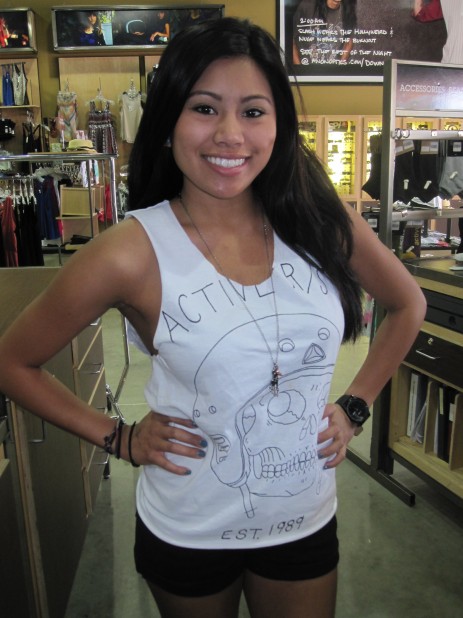 I hope ya'll enjoyed this tutorial! I'll be back with more.
Till then!
-KR
© TheStitch
Tags: network 3/4 t-shirt, active event, network Ride Shop Women's, DIY, T-Shirt, Tank Top, TheStitch, Women
Active stock video, and similarly, archive footage, library pictures, and file footage is film or video footage that can be used again in other films. Stock footage is beneficial to filmmakers as it saves shooting new material. A single piece of stock footage is called a "stock shot" or a "library shot". stock video Hawaii may have appeared in previous productions but may also be outtakes or footage shot for previous productions and not used. Examples of stock video that might be utilized are moving images of cities and landmarks.
on Friday, August 5th, 2011 at 1:00 pm and is filed under
The Stitch
. You can follow any comments to this entry through the
RSS 2.0
feed. You can
leave a comment
, or
trackback
from your own site.
3 Comments
great work ate katie! can i have a shirt like that? one that's not cut out and one that's still for guys lol

i totally loveee thissss!

Get it Girl!!!! Wooot!!! I Love this! Come help me customize mine girl!!!!!!!!!!!!!!!!!!!!!!!!!!!!!!!!!!!!!!!!!!!! Get it get it girl!!!!!!!!!!!!!