Supra Shoe Giveaway
We have a winner…. Jonathan K. !!! Supra thought yours was the best and you will be receiving a free pair of Stacks…Congratulations!
Skateboarding Understands People's Real Aspirations.
Remember the Adidas contest? Well, we have the same contest running for Supra. All you have to do is come up with a cool or funny acronym for the word Supra.  Here's an example:
S.U.P.R.A. = Start Using Passion Right Away!
The winner will receive a free pair of the new Supra Stacks.  Good luck!  Contest ends Monday July 26th.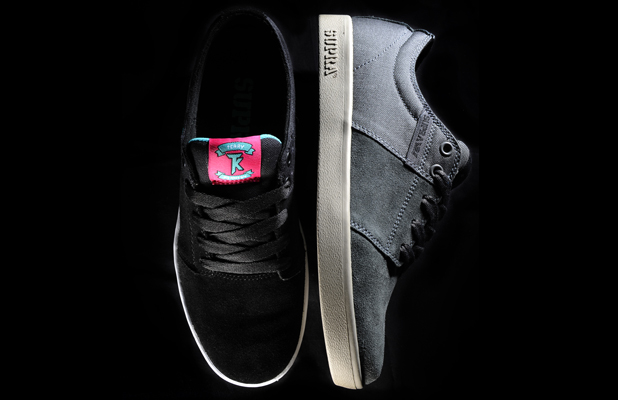 Shop Supra here:

Tags: antwuan dixon, erik ellington, jim greco, Lizard King, music, supra shoes, supra stacks, Terry Kennedy, Tom Penny
269 Comments
S-supras
U-unstoppable
P-power
R-rules
A-all

S-Super
U-Ugly
P-Posers
R-Rock
A-Adidas

straight
up
posse
rules
america

S-Sexy
U- Ultimate
P- Proper
R- Ruthless
A- All (Day)

Style
U
People
Really
Accept

S. U. P. R. A.
h n u u m
o i s n e
e v h r
s e e i
r d c
s a
a
l
l
y

S - shoes
U - universally
P - pushed
R - run
A - America

S.tart
U.tilizing
P.otential
R.ight
A.way

Sedated Under Pure Raw Adrenaline

I just noticed the old Adidas contest too…

I know its over but, here's one for the heck of it:

A D I D A S
America Deserves Intelligently Designed Athletic Shoes

S.teezy.
U.nderated.
P.osse.
R.iding
A.mazing Shoes.

S-UPRAS
U-NDER
P-RESSURE
R-ESISTING
A-RREST

CHECK THE SITE MY BROTHERS

Super
Uneducated
People
Rape
Animals

Stupid
Ugily
Person
Robbing
Alcohol

S-Stoners
U-United
P-Punching
R-Random
A-********

S-Stoners
U-United
P-Punching
R-Random
A-Aliens

S-shoes
U-used
P-pared
R-rather
A-anonymous

justin biebers favorite shoe and why would you spend that much on a shoe that your going to ruin skating? posers can have this brand just like dc and nike.

S. ick
U. nderground
P. roduct
R. ockit
A. lways

SuperUberPegasusRequestedAttire

SatansUnder-estimatedProductionsRaw and All out

SunlightUndergroundParkRuggedroadAlways-