Win Some Free SLVDR Gear!
Born in California and influenced by the world, SLVDR creates high quality, well considered designs.
Here's a chance to win some FREE SLVDR gear!!!  Contest will run from Nov 28th to Dec 12th.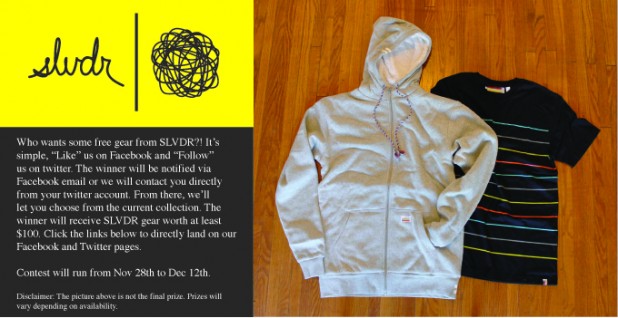 The picture above is not the final prize.  Prizes will vary depending on availability.
facebook.com/slvdrapparel .                   twitter.com/slvdr
You can check out some of the Slvdr product at the follow Active locations:

Tags: active event, contest and giveaways, SLVDR
5 Comments
wait if we only have a facebook no twitter we can still like the page and win right?…

sick! btw luv the mission valley location keep it up Active!!!

wait did anyone win? or is it still being decided…?

(derek) it ended yesterday… the dudes over at SLVDR will pick the winner and let you know…